DecImmune is developing DeciMab™, a humanized antibody, to block acute inflammation and prevent tissue damage following vascular injury by inhibiting the cascade initiated by the N2-IgM association. Pre-clinical proof-of-concept has been demonstrated in mice and pigs and the antibody is 18 months from filing an IND to begin an initial clinical trial in healthy volunteers. The company is evaluating several vascular inflammatory conditions linked to the N2 pathway, and will select one as a lead indication. Our toxicology and Phase 1 plans could support multiple acute indications. The development of DeciMab to date has received significant validation through peer-reviewed publications and $7 million in grants awarded from the NIH/NHLBI.
Preclinical Proof-of-Concept
DecImmune has demonstrated initial proof-of-concept in reducing the cardiac damage that occurs as a consequence of re-established blood flow following myocardial infarction. There are 1.2 million myocardial infarctions in the US annually, and an estimated 25 percent of the survivors of the most severe attacks will progress to heart failure. Significant preservation of cardiac function has been demonstrated in both murine and porcine models of myocardial infarction. In the porcine studies, a single bolus injection of DeciMab at the time of reperfusion showed a 30 percent improvement in left ventricular ejection fraction compared with an untreated group 3 weeks after infarct. DeciMab also produced a 30 percent reduction in levels of the cardiac biomarker troponin compared with untreated controls (see charts below). This would mean substantial patient benefit should these results translate to the clinic.
DeciMab Reduced Tissue Damage and Restored Cardiac Function Post-MI

Other Potential Indications
DecImmune is evaluating a number of potential indications for DeciMab, including diabetic nephropathy and vaso-occlusive crises in sickle cell disease. The company is employing a novel imaging technique to document N2 expression to help guide its therapeutic strategy. In addition, the company has shown that in murine models of diabetes, increased N2 in the eye and kidney follows initial hyperglycemic development.
N2 is a Potential Target in Early Stage Diabetic Nephropathy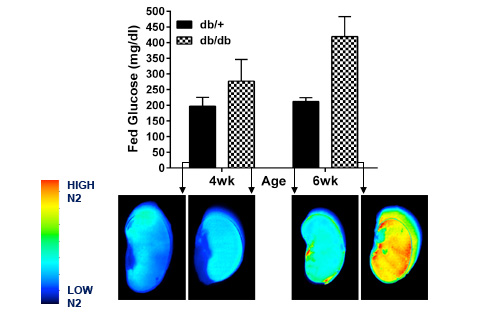 Intellectual Property
The company has established a strong intellectual property position around its N2 therapeutic strategy, including an issued US patent broadly covering antibodies against N2 and methods of treating ischemia reperfusion injury and related conditions. Similar patent applications have been filed in major markets and they also include patents covering specific humanized antibodies directed against N2.
Partnering
DecImmune if actively seeking pharmaceutical partners with an interest in vascular inflammatory disorders for financial and technical assistance in the selection of a lead indication and advancing this antibody into the clinic.